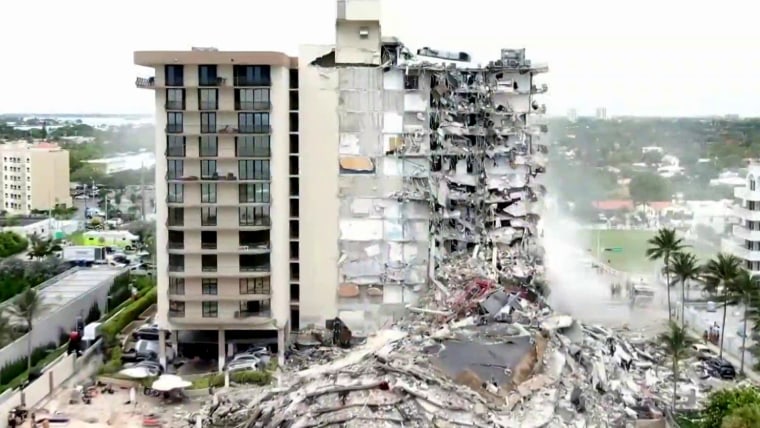 An Engineer's Insight on the Condo Collapse in Surfside, Florida
Joe DiPompeo, the President of Structural Workshop and also former President of Structural Engineering Institute of the American Society of Civil Engineers. When the Surfside, Florida condo collapse occurred, his term up until that point had been relatively quiet. He had not done any in person events or meetings due to COVID restrictions. However, after the collapse, the media scrambled to speak with engineering experts. He was contacted and interviewed by NBC News, The Washington Post, and the Star Ledger, a popular New Jersey Newspaper. He was featured in three Washington Post Articles and on the Front-Page Sunday Feature Article in the Star Ledger. Mr. DiPompeo participated in a panel discussion in West Palm Beach, FL regarding safety of existing buildings. His quiet term and quiet profession were now in the spotlight.
Here are some of the links to Mr. DiPompeo's interviews:
2nd Article in Washington Post
While it is too early to draw conclusions as to what happened to the Surfside Florida condo building, a very qualified team from the National Institute of Standards and Technology (NIST) has been working tirelessly on investigating, just like a different team did after 9/11. The public and the media wants immediate answers. This is understandable, as they want to make sure it is not going to happen to other high rise condo buildings.
There are some important things to know now
This type of event is extremely rare, especially in the US. It is such a big story and such a shock to the public AND the engineering community, because it almost never happens. There is no reason to believe that we have an epidemic of unsafe structures about to collapse in the middle of the night out there.
We will find the cause, and if it is repeatable and preventable, there will be changes to the building code and regulations to prevent it from happening again. Engineers learn from failures. Whether aircraft, dams, or buildings, each failure prevents more, and the arc is always bending towards failures being less frequent.
Building Owners, Building Managers, and Condo Associations need a new model. Structural Workshop has been involved in many building assessments and repairs and witnessed unit owners and condo boards fight for years over what repairs are required and who is paying for them, while the building continues to deteriorate. There can be a better, collaborative way that aligns everyone's interest. Now is the time to start doing it, when participants can set the rules-before regulation forces it in a manner that will likely not be ideal.
Two counties, Broward and Miami-Dade, in South Florida already have inspection regulations for existing buildings (Miami-Dade being the county the collapse occurred in) and others are considering it.
Salt on the surface and in the air accelerates corrosion of concrete structures. In NJ, this is an issue with parking garages which are exposed to road salts and coastal buildings which are exposed to salt air.
While there is no need to panic, Building Owners and Managers need to take the safety of their buildings more seriously and reconsider how they balance the cost of repairs, how they save and allocate reserves, and how they resolve disputes between unit owners and the association. None of these should stand in the way or delay necessary repairs.
Politicians may over-regulate, regulate too soon, or regulate the wrong things so it appears they are "doing something to help"-before understanding what happened.
To learn more about Structural Workshop's engineering services for commercial & residential high rise buildings, click here.